7 Most Unexpected Upsets in Recent UFC History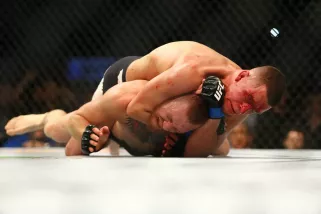 The Ultimate Fighting Championship (UFC) has grown from controversial niche events into a global MMA juggernaut. Broadcasting to over 150 countries, the UFC features elite fighters competing in the Octagon. While stars like Conor McGregor and Ronda Rousey have broken into the mainstream, the UFC still delivers shocking upsets that defy expectations.
Underdog victories provide some of the most dramatic moments in MMA history, as seemingly invincible champions get dethroned by massive underdogs. This article will recap some of the UFC's most thrilling and unexpected upsets.
The Nature of Upsets in UFC
In the UFC, upsets occur when undervalued and overlooked fighters defeat opponents initially perceived as unbeatable. Typically, with substantial betting, these underdogs shock the world by overcoming daunting odds and elite opponents. Upsets captivate fans as seemingly impossible victories unfold.
More importantly, giant-killing upsets can instantly transform careers. Underdogs become breakout stars, while established champions see their legacies tarnished in shocking defeats. The upset's power to shake up UFC hierarchies forever etched these unexpected triumphs into MMA lore.
7 Most Unexpected Upsets in UFC (Last 10 Years)
Shana Dobson vs. Mariya Agapova (August 2020)
Heading into her UFC debut, Mariya "Demonslayer" Agapova was hailed as a fearsome prospect, boasting an undefeated 8-0 record with 6 first-round finishes. Her opponent, Shana "Danger" Dobson, entered as a +400 underdog with a 3-3 UFC record. But in this clash at UFC on ESPN 15, Dobson would author a shocking upset.
After losing Round 1, Dobson rallied to badly hurt Agapova in Round 2, dropping her twice with punishing strikes. Dobson swarmed a dazed Agapova against the cage, unleashing furious ground and pound until the referee stopped the bout at 2:42. It was a spectacular star-making performance for Dobson, who defeated the heavily favored upstart Agapova.
Henry Cejudo vs. Demetrious Johnson II (August 2018)
At UFC 227, dominant flyweight champion Demetrious "Mighty Mouse" Johnson expected to dispatch Henry Cejudo, who he had previously submitted in just 2:49 in 2016. But Cejudo came prepared, showcasing improved striking and grappling to push the pace against the elusive Johnson.
In a tactical back-and-forth battle, Cejudo closed the gap and kept the bout razor close, leading to the scorecards. In a split decision shocker, Cejudo was awarded the victory (47-48, 48-47, 48-47) to capture the flyweight belt from MMA's pound-for-pound king. It was a monumental upset that finally validated Cejudo's championship credentials.
Nate Diaz vs. Conor McGregor I (March 2016)
When Rafael dos Anjos pulled out of UFC 196 with an injury, Nate Diaz stepped in on 11 days' notice to face featherweight champion Conor McGregor. McGregor had torn through the 145-lb division and was a -1000 favorite against Diaz, a +700 underdog.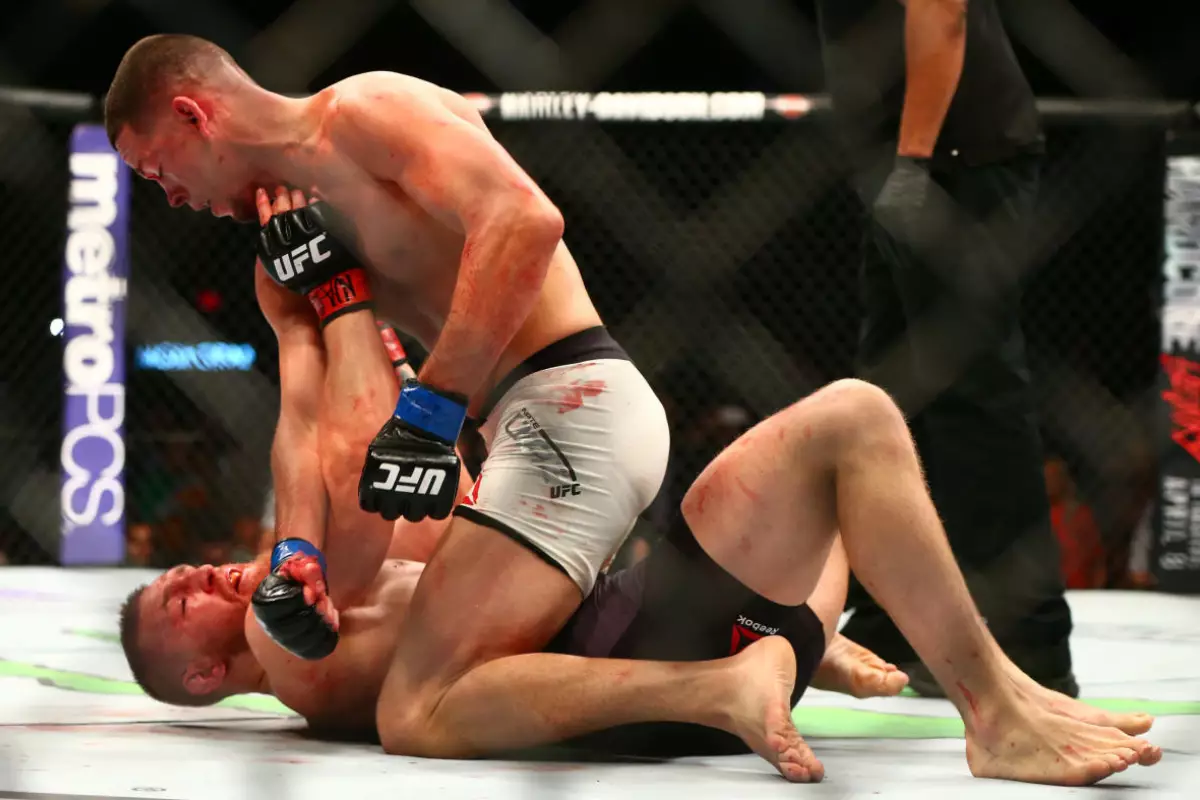 But Diaz weathered an early barrage and turned the tide with his slick boxing. In Round 2, Diaz rocked McGregor and applied a rear naked choke to force the tap at 4:12 in a monumental upset. Diaz became an instant superstar, while McGregor's invincibility evaporated overnight.
Rose Namajunas vs. Joanna Jedrzejczyk I (November 2017)
Dominant strawweight queen Joanna Jedrzejczyk seemed unstoppable with a perfect 14-0 record and five title defenses heading into UFC 217. Challenger Rose Namajunas was a +700 underdog but promised to "shock the world."
She dropped Jedrzejczyk early with a right hand and then swarmed her against the cage. After brutal ground and pound, it was stopped at 3:03 as Namajunas captured the belt in a massive upset over one of MMA's most feared champions.
Chris Weidman vs. Anderson Silva I (July 2013)
Anderson "The Spider" Silva entered UFC 162 on a 17-fight win streak over seven years as the seemingly invincible middleweight king. But Chris Weidman would shock the world, weathering Silva's taunts before dropping him with a left hook in Round 2. The follow-up punches knocked Silva out cold at 1:18, ending his reign spectacularly. Entering as a +200 underdog, Weidman's wrestling and well-rounded skills dethroned the most dominant champion in MMA history in one of the sport's biggest upsets.
Holly Holm vs. Ronda Rousey (November 2015)
"Rowdy" Ronda Rousey was billed as unbeatable upon entering UFC 193, boasting a 12–0 record with 10 straight title defenses. Former boxing champion Holly Holm entered as a +700 underdog for her UFC debut. But Holm executed the perfect gameplan, using footwork and distance to evade Rousey's charges before landing a head kick to finish her at 0:59 of Round 2. Holm authored the biggest upset in UFC women's history, dominating and dethroning MMA's most feared superstar.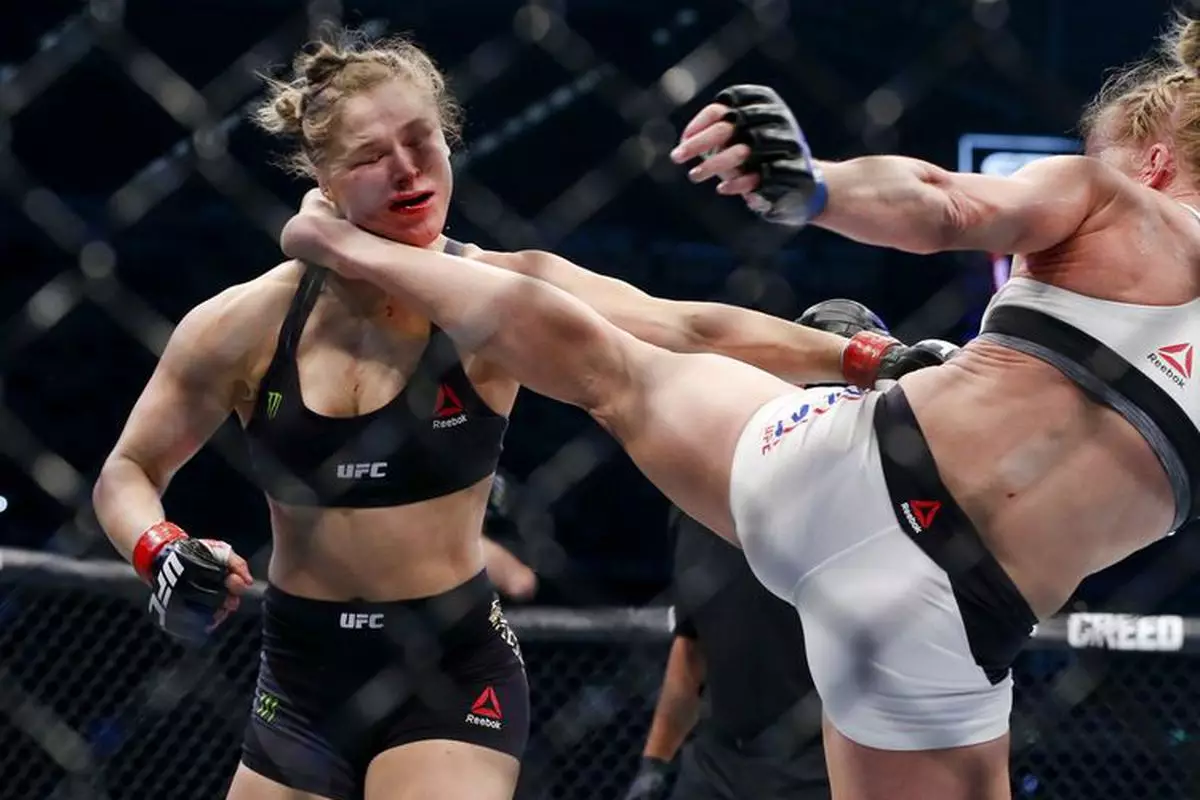 Julianna Pena vs. Amanda Nunes (December 2021)
At UFC 269, two-division champion Amanda Nunes was a massive -1000 favorite to defeat Julianna Pena, who hadn't fought in two years. But Pena pushed the pace and outworked a flat-footed Nunes, eventually securing a rear naked choke at 3:26 of Round 2. As a +700 underdog, Pena handed Nunes her first loss in over five years, completing an unbelievable upset over the consensus women's GOAT.
Summing Up
In the thrilling world of UFC, expect the unexpected! These seven jaw-dropping upsets are more than fight results; they're epic tales of underdogs and giants, where the script gets flipped in the blink of an eye.
From Dobson's surprise knockout to Pena's jaw-dropping submission of Nunes, each fight is a wild ride of adrenaline and awe. It's a reminder that in the UFC, fortunes can change with a single punch or a swift grapple. These moments aren't just about winning or losing; they're about the heart, grit, and sheer unpredictability that keeps us all on the edge of our seats. So, hats off to these warriors who showed us that anything can happen in the UFC!