Premier League's Potential Shift to Own Streaming Platform: Impact on Sky Sports, BT Sport, and Fan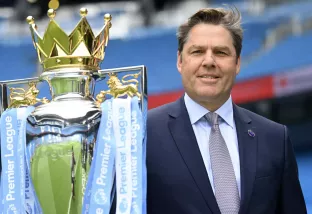 The Premier League is considering a groundbreaking change in its broadcasting strategy, potentially severing ties with long-standing partners like Sky Sports and BT Sport in favor of streaming matches on a dedicated platform. This move could generate significant revenue for the league and its clubs while alleviating the financial burden on fans who currently subscribe to multiple platforms. This article explores the implications of this decision on the Premier League, broadcasting partners, and supporters.
The Premier League's Plan: An End to Collaboration with Broadcasters
It's predicted that the Premier League will strike only one more partnership deal before taking complete control of their broadcasts, cutting out intermediaries like Sky and BT Sport. This shift would deal a major blow to Sky, which has played a crucial role in the league's rise to financial dominance since its inception in 1992.
A Golden Opportunity for Revenue and Fan Relief
Launching a dedicated streaming platform would present the Premier League with the chance to significantly boost its revenue and further enrich its clubs. This change could also provide relief for fans struggling to cope with the rising costs of multiple subscriptions. However, this won't immediately help supporters who currently need Sky Sports, BT Sport, and Amazon Prime to watch all Premier League games.
The Battle for Broadcasting Rights: New Contenders Emerge
As the Premier League ponders its future broadcasting approach, rumors hint at new players, such as DAZN and Disney+, vying for the upcoming contract. Viaplay, for instance, has already broadcasted international matches featuring Wales, Scotland, and the Republic of Ireland.
The Financial Strain on Football Fans
The ever-increasing expense of watching football on TV, which now hovers around £100 per month, coupled with inconvenient kick-off times, has dealt a harsh blow to fans. Football Supporters Association CEO Kevin Miles expressed his concerns about the rising costs, saying that fans are struggling to manage the financial burden and multiple subscriptions.
Confronting the Challenges: Kick-off Times and Scheduling
If the Premier League opts to create its own streaming platform, it must address the issue of kick-off times. Currently, broadcasters like Sky and BT Sport are responsible for scheduling decisions. Transitioning to an independent platform would require the league to navigate these challenges, ensuring a seamless viewing experience for fans.
A Bold Move with Far-Reaching Consequences
The Premier League's potential shift towards an exclusive streaming platform could revolutionize football broadcasting, bringing both opportunities and challenges. By cutting out intermediary partners, the league could increase its revenue while providing some financial relief to fans. However, this decision would also force the Premier League to tackle scheduling issues and navigate a new broadcasting landscape. Only time will tell if this daring move pays off for the league, its clubs, and its supporters.